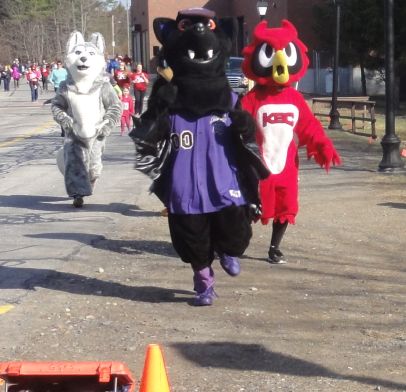 5/12/2017
Race Promotion
Spring has sprung, the 2017 Boston Marathon is in the books, and now it's time for the race season to get underway in earnest. May and June are two of the busiest months of the year for races, exceeded only by September and October. Whether your race is coming up soon, or not for months yet, one thing you'll want to pay attention to is promoting your event. We've put together a list of great ideas on our website to promote your event, and included many links to further information that we hope you'll find useful. Take a look, and if you have other ideas that aren't included we hope you'll share them with us so we can share them with others.
Links to Race Videos
We've got an exciting new service to offer our events. In cooperation with iResults we can now offer to link your runners' results directly to a video of their finish on YouTube. If you have someone taking video of your finishers and that video is posted on YouTube, it's a simple matter to link up our results. Runners only have to click on a link next to their own results to view themselves coming across the finish line. In many cases we can produce these videos ourselves, so if this is of interest please ask us about it. You can see an example of what these results look like here.
Where are our race results?
Speaking of online race results, the best place to view our results is on our own website, starting at http://www.gsrs.com/raceresults. We display your results from the iresultslive.com website, but also like to enhance the page by including links to results on coolrunning.com and Athlinks.com. We will include any available links to photos and video of the race, as well as news stories about your race after the event. Sometimes we'll include photos of your winners, and if you have a few photos of your race that you'd like to include, feel free to send them to us. If you are posting a link to your race results on your own website, you can find the link to your results by logging into our website, going to your event through the Race Director's menu, and looking for the GSRS Results link at the bottom of the page. Results of your race will appear here live during your race as runners are finishing. Also be sure to tell your runners that they can sign for athlete tracking to receive results of any runner by email or text. That becomes available as soon as the runner data is loaded into the system.
Blogs from ChronoTrack
Our ChronoTrack partners blog frequently, and they have created some excellent entries over the past couple of months. Check these out:
Crisis Communications Handbook: What, Why, and How?
The Ins & Outs of USATF Course Certification
4 Problems Every Race Director Encounters (Ask us how we can help you to handle them)
Welcome All: How to Make Your Race Truly Inclusive
Repeat Registration: How to Create Participants for Life
Mud, Sweat, and Tears: How to Plan an Obstacle Race
Little & Local: When a Small Town Race is a Race Director's Best Bet
What's the winning time?
Chip timing devices have internal clocks that record the times of the runners as they cross over the finish mats. Those times flow into our computers and from there we provide the results and score the race. But the times as recorded by such chip systems are NOT official by the rules of USA Track & Field. According to their rulebook (which is available online but not easy reading at 242 pages long) the winning time of the race must be determined by at least two and preferably three independent timers who use separate timepieces started on the gun and stopped when the winner crosses the finish line. The middle of those three times (or longer of two) is the official winning time. We compare that time to the time that comes into our computer through our chip system and make an adjustment to change that chip time to the official winning time. All finishers in the race get the same adjustment to their times. This is the way that the rules specify it must be done, yet most timing companies don't bother. They take the time on the chip system and as long as it's not way off they go with it. Such times are not acceptable for official records and rankings, so do keep this in mind when hiring a timer.
See you at the races!